published and updated:
20. April 2022
Loading Platforms
The Nani Loading Platforms are designed and adapted to your loading locations. Due to the special development of stationary or transportable Loading Platforms resp. the expansion of the loading site, loading and unloading of the truck is simplified and safer.
The Loading Platforms can be designed stationary or mobile. Both solutions are selected if the loading process is to be professionalized in a stock in which loading has been formerly carried out at the ground level. We can address all requirements and, for example, integrate electrohydraulic loading bridges, lifting tables, lifting platforms and gates and door seals. This considerably improves the efficiency of the loading, the safety of the loading process and personnel as well as the protection from weather influences such as wind, rain and snow.
Such Loading Platforms can also be designed for operations with heavy load goods of up to 25 tons and more. Frequently, these platforms are then used as transshipment and intermediate buffer for the delivered goods from the truck or from the railway. The mobile solutions are particularly suitable when loading regularly at different locations on large sites, or if this is rather unusual and you want to keep the transshipment place free for the time between the shipments.
Loading Platforms for docklevellers
If you are unable to set up a loading platform, you can look at the following products for loading at ground level: Container Loading Plate, Loading dock system for yard-level and height-adjustable inflatable Dockshelter. These products can also be combined, which is often the case in Container Logistics.
Special loading platform in food logistics
Loading platform with dock lifts for equipping the lower-lying warehouse and special loading ramp for rear loading in trucks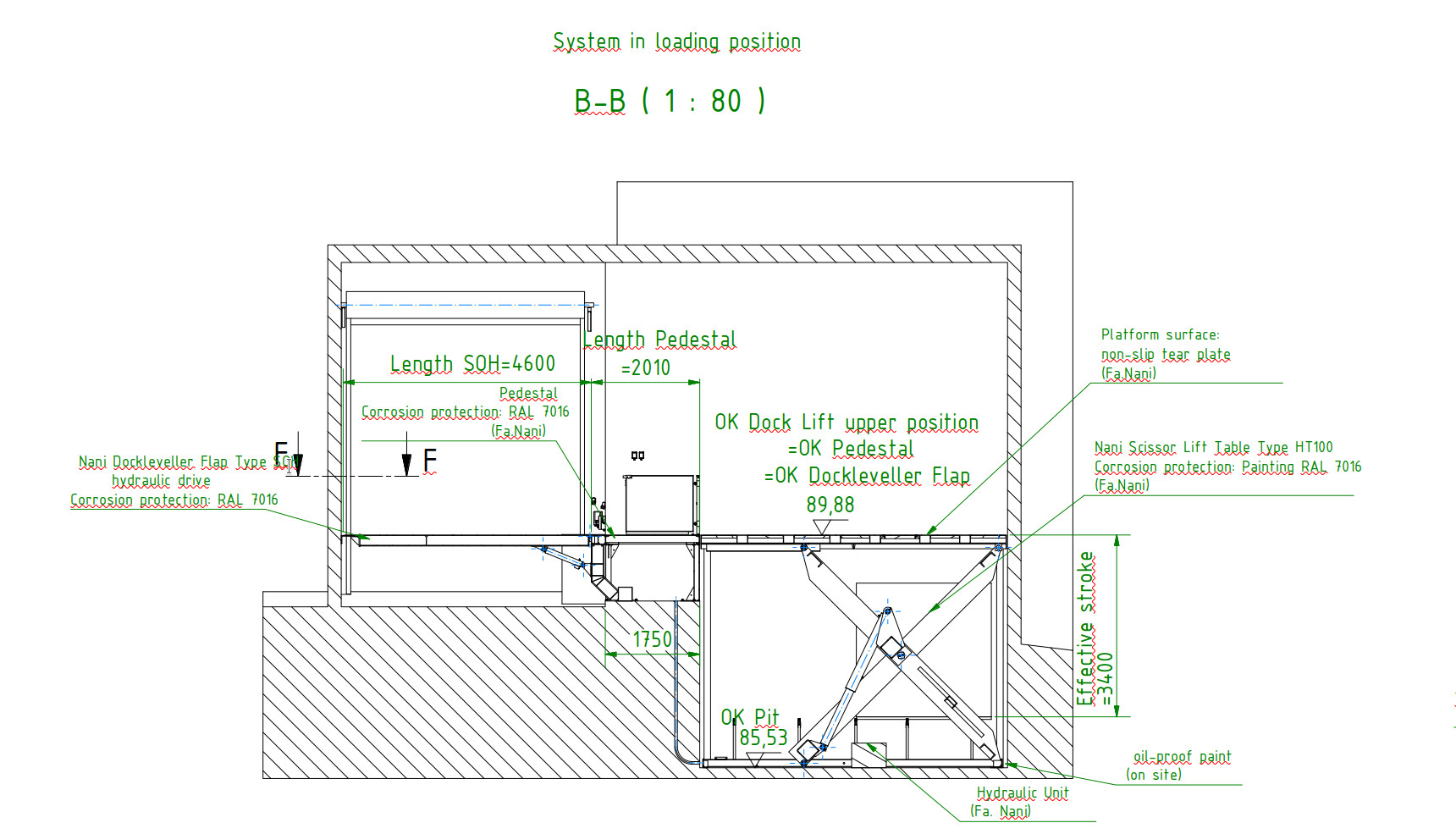 Loading platform design drawing

Loading platform combination SOH-Lift Table
Loading platform for production logistics solutions
A yard-level production hall is converted into a logistics hall with 4 loading docks in a row by simply lowering the site next to the hall by approx. 1.2 m. The loading platform made of hot-dip galvanized steel serves as a intralogistics and intermediate storage area. Four sealed loading locks allow docking with closed truck rear doors. By building the loading and logistics platform in front of the building, the space in the hall can continue to be used as efficiently and effectively as possible.
Everything comes from a single source: planning, disassembly of the facade, steel construction, loading technology, panel construction, electrics. In this case, we took over the entire project at the customer's request.
stationary Loading Platform for a System-Construction manufacturer
Nani-Verladeschleuse
Loading Head
Loading Platform with Docklevellers